Given the rising reputation of fine wine as a profitable long-term investment asset, there is a growing focus on the measure of the wine price performance. By having trading prices at our platform, we are working to satisfy this demand on different fronts.
Calculating the market performance of fine wines
There is no universally accepted method for calculating an index. We therefore decided to develop our own index using equal weight. This means that we assume investing same amount of money in every wine listed on the exchange. The main reason for this choice is that both the volatility and the beta of fine wine are understated on existing wine index data. With an equal weight index, no trades in one specific wine will affect the index.
Alti Wine Exchange also runs several country fine wine indexes based on the market price average of the wines integrating the indexes, with the goal of benchmarking a representative basket of fine wines in a specific country, but underestimating risk on the wine market.
Our exchange is based on real trades of the listed wines, making it more robust and reliable and allowing you to track your fine wine portfolio on our platform. The diversification of fine wine in this index is more limited, but the diversification potential is also more limited than believed in the industry. The goal is to allow you to compare your wine investment with the wine index and with other types of assets.
<!–
THE ALTI WINE EXCHANGE INTERNAL INDEX
Our internal wine index is based exclusively on wine trading results on our platform. Its main goal is to track performance of wines listed on Alti Wine Exchange in order to offer potential returns of wine investments through our platform.
This equal weighted index tracks price evolution of the following wines that are among the currently listed on the platform: Seña 2007, Seña 2008 Magnum, Moscatel Kingsman Century Edition 1919, Riesling Beerenauslese Kröv Steffensberg 2007, Moscatel de Setúbal Superior 1911, Montes Folly, Chateau Coutet Cuvée Émeri, Vallado Adelaide Douro 2014 and ABF Vallado 1888 Port. It shows a cumulative dynamics of the arithmetic average changes in price for abovementioned wines.
(November 2020-January 2021)
The Alti Wine Exchange Internal Index has increased by more than 10% since the middle of November 2020,
justifying investment potential in fine wines.
–>
Our fine wine market indexes
METHODOLOGY
Alti Wine Exchange (AWE) Indexes are a family of equal weighted indexes which trace price performance of fine and rare wines and shows equal weighted average returns on them. The indexes are subdivided by most important wine countries.
Monthly average wine prices in US dollars were collected from https://www.wine-searcher.com/ database and converted to
euro.
The main features of an equal weighted index include:
Cumulatives of the arithmetic average of the percentage changes in price for all wines in index
Equivalent to investing the same € amount in each wine
Price performance of all wines regardless of the price is equally important
INDEX COMPUTATION EXAMPLE
If Index was 100 on month 0, it would also be 104,4 on month 1: I 0 (1 + %D) = I 1
| Wine | Price 0, € | Price 0, € | € % change |
| --- | --- | --- | --- |
| A | 100 | 110 | 10% |
| B | 200 | 210 | 5% |
| C | 300 | 295 | -1,67% |
| Sum: | | | 13,33% |
| Divided by 3 | | | 4.4% |
FAMILY OF 10 INDEXES
Alti Wine Exchange (AWE) Indexes cover fine and rare wines from Europe, the Americas, Africa and
Australia:
Alti Argentinian Wine Index (includes one wine from Uruguay)

Alti Australian Wine Index (includes one wine from New Zealand)

Alti Californian Wine Index

Alti Chilean Wine Index

Alti French Wine Index

Alti German Wine Index

Alti Italian Wine Index

Alti Portuguese Wine Index

Alti South African Wine Index

Alti Spanish Wine Index
HISTORICAL AWE INDEXES PERFORMANCE FROM JUNE 2016 TO DECEMBER 2022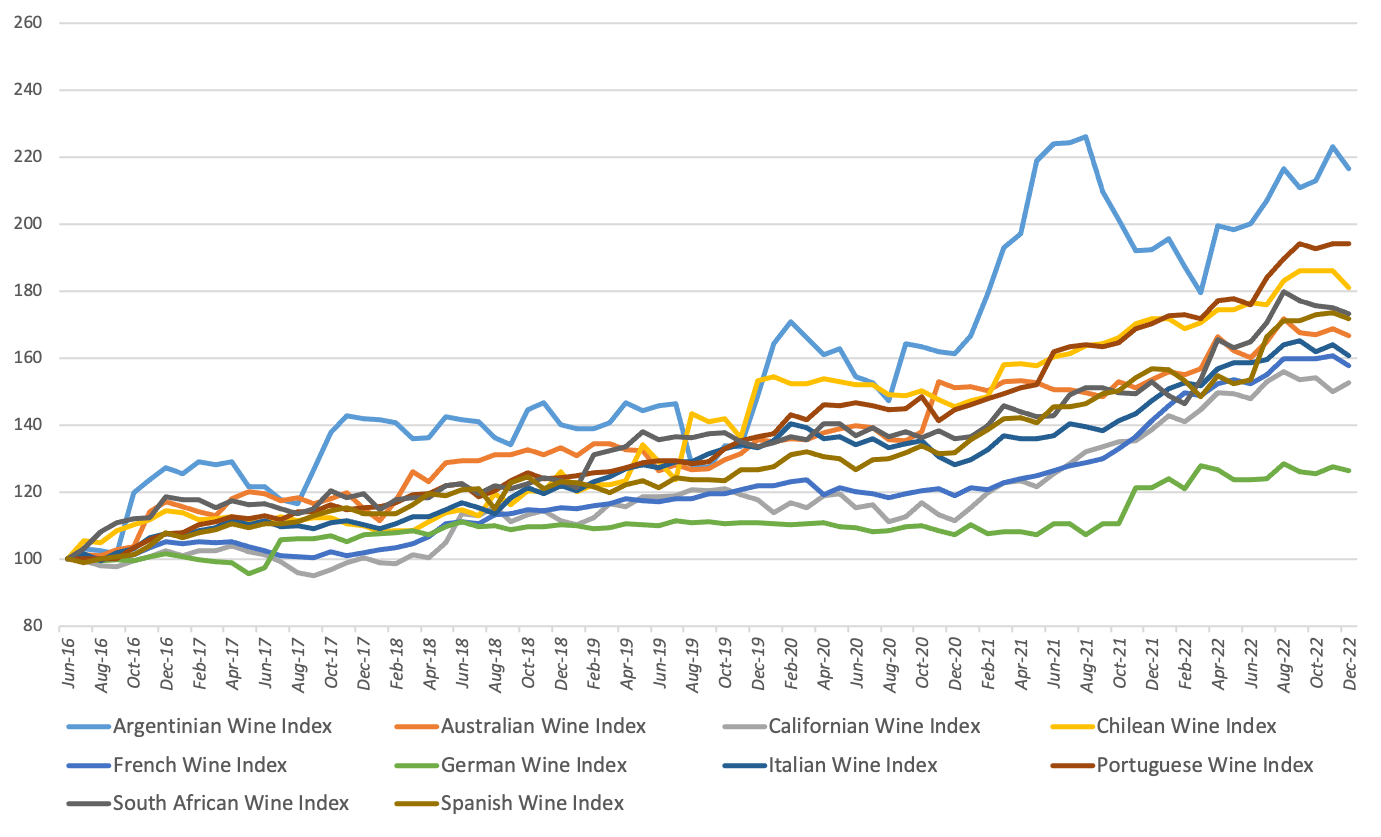 ---