Opus One is one of the most recognized wineries and producers in California, steadily providing marvelous Bordeaux-style blends that are top rated by the world's most prestigious critics.
Originated from the joint effort of two of the 20th century's greatest minds of wine, the Napa Valley winery relies on experience, passion and dedication to produce unique blends out of five traditional grapes: the dominant Cabernet Sauvignon, Cabernet Franc, Merlot, Petit Verdot and Malbec.
It is no surprise that, when it comes to fine and rare wines, Alti Wine Exchange gives you only the best age-worthy and investment-grade vintages.
So that is why we are ecstatic to bring three fantastic wines by Opus One as the August offer for members of our Wine Club: the wonderful 2015 and 2016 vintages of its homonymous flagship wine, and its second label, the fantastic Overture.
I'm Breno, producer and editor at Alti Wine Exchange, and this is the story of Opus One – a perfect merge between the Old and the New World of wine into one grand opus.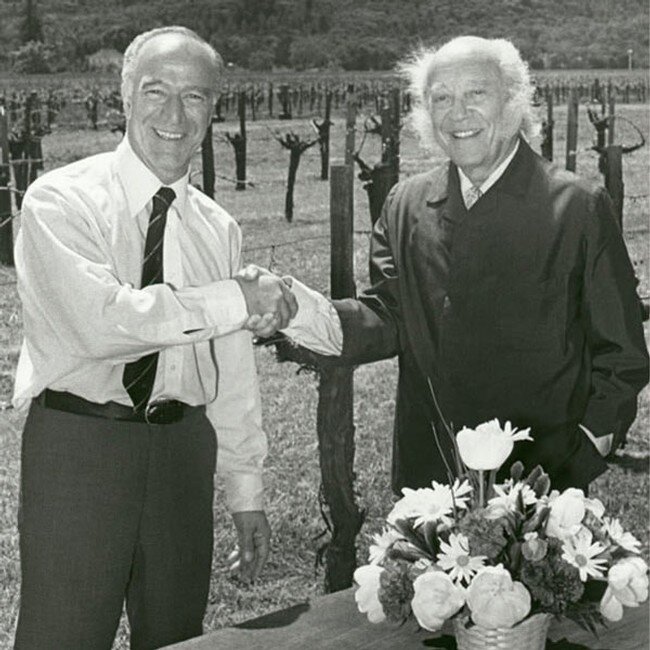 The winery
In 1970, two great minds that helped shaping the course of winemaking in Europe and America met for the first time in Hawaii.
Back then, Baron Philippe de Rothschild, the legendary proprietor of Château Mouton-Rothschild, and Robert Mondavi, the winemaker who shaped the Napa Valley AVA as birthplace of some of the world's finest wines, started planning a joint venture, but kept going separate paths for almost a decade.
Mondavi had gladly seen the fame boom caused by the Judgment of Paris, the 1976 blind tasting that showcased how Californian fine wines could beat traditional European vintages – much thanks to himself.
It wasn't until 1980, some years after the famed tasting, that Opus One was officially announced – making the headlines of the industry by unveiling this top-notch winery set in Oakville, Napa, where Mondavi had been already making history.
Decades later, the joint efforts, tradition, dedication and terroir made Opus One become one of the most exclusive wineries in California and the United States.
The place itself is idealized as an expression of calm and peace. Sustainable practices are a motto for all of its techniques.
With four meticulously hedged vineyard parcels that form the Opus One estate, the winery is sought after by visitors from all over the world and enjoys a cult status among enthusiasts of all continents, whilst producing the only two wines that Alti is now offering.
This joint approach of modern, New World techniques, traditional French oak 18-month aging and the privilege of classic styles of Bordeaux reds gives Opus One vintages a landmark status of merging the best of the two worlds. Not a coincidence that the original name for the flagship wine was napamedoc (Napa + Médoc).
Every vintage of the Opus One is quickly sold out everywhere and is consistently highly rated by critics such as Parker, Suckling, Robinson and more, while Overture doesn't lag behind.
The wines
Alti Wine Club proudly offers two consecutive vintages of the flagship Opus One: 2015 and 2016.
These vintages – strong, bold Cabernet-dominant – have been rated respectively 97 / 98 points by Robert Parker's Wine Advocate, and 98 / 99 by James Suckling. Yet, their tasting notes can draw interesting contrasts.
2015 shows initial dark fruit, spice and baking aromas that are interwoven with seductive notes of violet, black tea, and sage. The entry is vibrant with ripe dark fruit flavours of plum, blackberry and blueberry followed by hints of vanilla and cocoa. Silky, fine-grained tannins provide structure and a creamy texture. The wine finishes with fresh acidity and a rich, lingering finish that promises longevity in the cellar.
2016 is remarkably elegant and bright offering sumptuous aromas of fresh red and blue fruit, baking spices and vanilla, and a delicate fragrance of spring florals. The initial bouquet is augmented by more nuanced notes of sage, rosemary, and black olive. Juicy flavours of black cherry, blackberry and cassis flood the palate and creamy, fine-grained tannins deliver a delightfully round structure. Harmonious and lively, the flavours linger to create an enduring finish with touches of dark chocolate and espresso.
But that's not all.
Opus One's second label, Overture, has been rated 95 points by the Wine Front, 94 by Cellar Tracker and 93 by Decanter. This fine natural extension of the creation of Opus One, Overture is the timeless expression of the estate vineyards: the classic blackberry and cassis character of Cabernet Sauvignon melds seamlessly with the black cherry, red currant and violet from the Merlot, Cabernet Franc, Petit Verdot and Malbec. Notes of bright cherry and red currant are underpinned by more earthy tones of ground cocoa, cedar and vanilla, and extended barrel aging gives the wine an elegant texture accentuated by round tannins and a soft mouthfeel.
These three wines are available for delivery or investment at Alti Wine Exchange, as of August 2020.
Don't miss out: if you want to invest in any of these wines bus still haven't subscribed to our communications, register interest in any of the pages and also tick the respective box to receive future offers.
Opus One 2015
Opus One 2016
Overture
As Baron Rothschild said: "Wine is born, then it lives. But it never dies, in man it lives on."
To know more about Alti Wine Exchange, read our FAQ.

For a must-know when investing in fine wine, click here for tips, and check our home page for much more.